Our Philosophy
To promote an awareness and general interest in the cultures of the great ancient civilisations, while helping to promote an understanding of the siting and layout of the scared sites and their true meaning.
To this end, we offer the most complete and succinct tour package you will find.
Our main guide (Howard Middleton-Jones) has visited Egypt on many occasions, building up a good relationship with the local guides and people alike. This has created an opportunity to gain trust and friendship with many local people to enable visits to often less frequented and known sites.
Thus utilising main tour and local guides, you will visit many intriguing sites in a safe, hassle-free and well organised memorable trip.
MAAT STUDY TOURS
MAAT - Goddess personifying truth, justice and the essential harmony of the Universe. Maat, also represented the divine order of the universe as originally brought into being at the moment of creation.
Maat was alos present at the judgement of the dead, when the heart of the deceased was weighed against her feather.


The people involved
We have many contacts and local people we call upon while in Egypt, however, for the bio and background of our main UK-Egypt guide, please link here.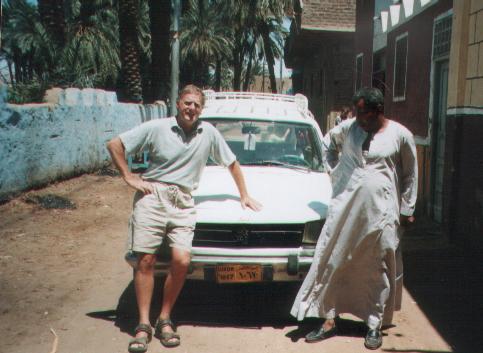 Howard, originator of Egypt Study tours, with Mohammed (our friendly and most useful Luxor taxi driver)
outside Mohammed's house in Karnak village Luxor.